Juan (Johnny) Rangel
Senior Packaging Technologist, Mexico
Juan's Perfetti Experience Unwrapped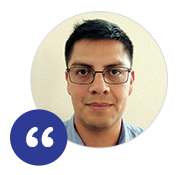 Perfetti completely changed my life. More accurately, Perfetti gave me the opportunities, the support, and the inspiration to change my life professionally and personally. To me, Perfetti is more than a global confection company; it is where dreams are made and where dreams can come true. Within six years, I've progressed from an entry level position to a newly created management job in research and development where I am now helping others realize their dreams.
I enjoy being a part of really big projects. These are not the projects are not necessarily with the most people involved, but the ones that challenge me and make me stretch my capabilities. I am encouraged to continuously learn while making substantial contributions to every project. In addition, while working on these projects I have the opportunity to learn from the smartest people in the industry and experts from across the world. We are a truly international company, I was able to travel to our Perfetti China facility to learn directly from our production people there to help me make our Mexico production and processes top-of-the-line. I regularly collaborate with our global experts to find the best solutions to complex problems. This hands-on experience is invaluable to my professional growth. My managers trust me to make independent decisions so I can act quickly and decisively. They support and give me all the tools, training, and skills I need to both succeed and excel. And when mistakes happen, they are an opportunity to learn and not to be blamed or reprimanded. My managers guide me to solve the problem, make insightful suggestions, and then let me discover how to implement change. This approach makes me feel respected and trusted. I am empowered to do more and achieve more.
One of my favorite parts of my job is that I am encouraged to always think and imagine ways of doing things better. I get to work with many different departments and with colleagues around the world. We are growing our business here in Mexico and it is very fast-paced which means we are continuously looking for ways to do things better, quicker, and more efficiently. In addition to innovating new processes, I'm assessing what our customers want and how I can get it to them.
 I am always creating and imagining; that's why I love coming to work every morning! One of the most exciting parts of working at Perfetti is that I am given the freedom to be curious and to constantly learn new things. At Perfetti, I truly believe that if you can achieve anything if you are willing to work for it. Fortunately, I have a great team of professional, focused, and inspirational people who work together to make all our dreams come true. 
I greatly enjoy working with my colleagues and people from all over the world because we share a passion to work together for a common purpose or task. People are focused on what needs to be done and push me to do my very best work. They are friendly, open, and inclusive. If I have a problem at work or at home, I am listened to and supported. I have made very good friends at Perfetti and this contributes to the fun and happiness at work. In fact, the best friend I have made at Perfetti is now my wife! I can honestly say that Perfetti completely changed my life... Personally through the love of my wife and son, and professionally through the opportunities to learn and explore my potential.
Inside the Wrapper
My favorite Perfetti candy: Mint Mentos.
The packaging is in the Perfetti colors of blue and red and wraps all the HISTORY and goodness inside. It inspires me every time I have one.
If I were a Perfetti candy it would be: Smint.
Smint is not produced in Mexico, is fresh and healthy, kind-of like me.
One thing that would surprise my colleagues: I love to grill meat. I can spend hours watching over the grill and making delicious food for my family and friends. I'm quite a talented grill master.