News
Happy 90th Birthday to Fruit-tella!
Celebrating 90 years of soft, chewy, fruity goodness.
2 February 2021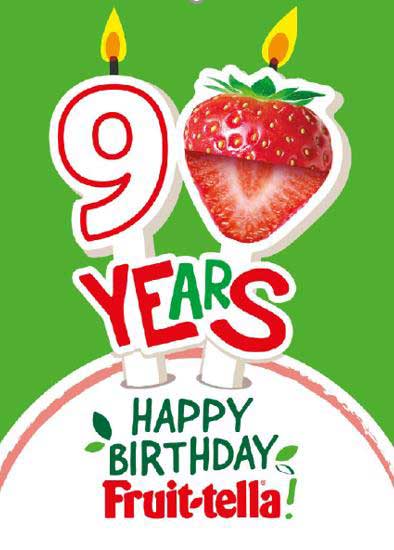 Fruit-tella Turns 90! This is a big year for Fruit-tella, the soft, fruit, chewy candy that first hit the Dutch market in 1932. In its 90 years of popularity, Fruit-tella has continued to expand and improve – and the look has changed too! As a result, Fruit-tella has continued to win more and more fruity lovers' hearts each and every day for 90 years. That's 32,850 days of delighting consumers!

Real fruit juice is what makes Fruit-tell so special. It gives them the great fruity taste everyone loves, turning it into an iconic fruit brand.

Be on the lookout for local celebrations of Fruit-tella and join in the 90th birthday festivities with fruity lovers everywhere.

About Fruit-tella
Fruit-tella has a history going all the way back to 1932 when its founder, Van Melle, first introduced the sweet to the Dutch market. The "square sweet," as it quickly became known, was available in a variety of tasty, fruity flavors. Over the years, the assortment grew to include chewy and jelly sweets to make sure there was a flavor or texture to suit everyone's fruity need. Today, Fruit-tella is sold around the world and is recognized as a family candy brand enjoyed by children and parents alike.
About Perfetti Van Melle
Perfetti van Melle is a private company that manufactures and distributes confectionery and chewing gum in more than 150 countries. To date, Perfetti van Melle is a world leader in the confectionery industry, thanks to strong and internationally recognized brands such as Mentos, Chupa Chups, Frisk, Fruit-tella, Alpenliebe, Smint, Golia, Happydent, Big Babol and Airheads.