News
The first Chupa Chups on-line shop
12 June 2014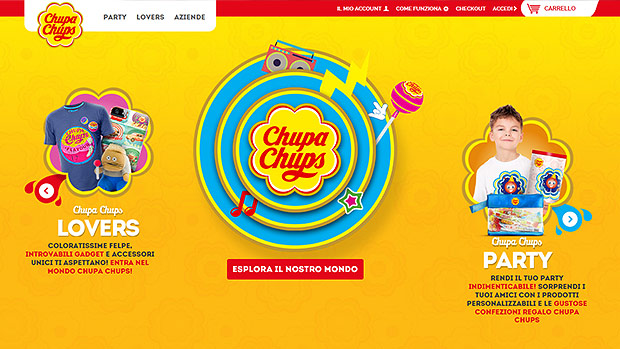 Launched in Italy in May 2014, www.chupachupsshop.com is the first official Chupa Chups on-line shop where you can buy some of Chupa Chups best loved products as well as apparel and other gadgets that are on the wish list of Chupa Chups fans and teenagers.
What's more, the site allows you to customize Chupa Chups product packages and other items and buy all you need to organize a unique party with your friends!
It is a true  "custom & play" portal: in the  "PARTY" section with a few clicks you can create colorful and original Chupa Chups-shaped characters to be printed on t-shirts and  on product packages or have a photo of your son or daughter printed on the Chupa Chups wheel crowner!. And to make the party as much playful as possible, you can buy hats, balloons and flags and choose a gift  for your friends, like smartphones covers, cups, Mr Chuck, special edition product packages.  In the "Lovers" section fans and gourmands can buy t-shirts, gadgets, special collectables  and packs of Chupa Chups as well as Big Babol, Golia, Vivident, Goleador.
Chupa Chups is such a loved and renowned confectionary brand that has become a total lifestyle concept for teenagers and adults as well.
Today, Chupa Chups is the most popular and consumed lollipop in the world: one out of four lollipops sold worldwide is a Chupa Chups. Every year billions of these high quality lollipops, with a huge variety of flavours in eye catching colourful wrappers, are enjoyed by people of all ages in 150 countries.