Craft, creativity & passion
These are the key drivers for our success as we explore new ways of doing things and innovative ideas that will inspire and delight our consumers worldwide.
Innovation to inspire & delight
Our consumers in both mature and growing economies are very sensitive to new experiences and concepts. We want to be the ones who pleasantly surprise them with new products, new flavours, new packaging and new product concepts that will help them enjoy "sweeter" moments in their lives.
This is why research and development plays such an important strategic role at Perfetti Van Melle. Our central laboratories in Lainate (Italy), supported by local laboratories in various countries, are constantly researching new chewing gum and candy formulations as well as qualitative improvements to existing products. Have a video tour to our R&D facilities where innovation is born.
Mentos NOWmints
Launched in 2013, NOWmints are a successful innovation from our Mentos candy brand in the sugar-free confectionery segment. Thanks to a new manufacturing technology, these mini mints are very smooth, providing a pleasant sensation as they're eaten.
Taste
NOWmints taste extremely fresh, thanks to a high percentage of xylitol in the sugar-free formulation. There are eight flavours in the range: eucamenthol, the strongest mint; Sweetmint, for a milder freshness; Spearmint, Peppermint and Licorice, for a traditional taste experience; and Orange, Strawberry and Berryfor a fruity treat.
Packaging
NOWmints come in a small metal box that's desirable and has a premium status. This completely new packaging, developed for Mentos for the first time, has a cool and contemporary fashionable design. It is also very easy to carry around and to open.
Availability
NOWmints are currently available in Italy, France, Turkey, Canada, USA, Germany, Scandinavia, Greece, Australia and many others.
Chupa Chups Fruit Flavours Universe
Fruit Flavours Universe is a great innovation from Chupa Chups.
These lollipops get their outer-space name due to the coloured dots inside which provide an additional fruity flavour boost.
Taste
Fruit Flavours Universe lollipops are available in citrus, berry and tutti-frutti (only in Russia) flavours. Japan will also have melon soda and tropical mix banana flavours.
The coloured dots in the lollipop add an extra burst of strawberry, pineapple and blueberry flavours, giving the lollipop an out-of-this world taste sensation
Packaging
These lollipops are sold in the iconic Chupa Chups wheel in France and in display boxes and tins in Russia.
Availability
These lollipops are available in France, Russia and Japan.
Mentos Ice Cup Chewing gum
Experience the icy freshness of ice water in a chewing gum!
The refreshing taste of Mentos Gum and its unique shape and texture is enjoyed by millions of fans all around the world.
Mentos Ice Cup is a very innovative addition to the range that satisfies the need for something fresh.
Taste
The chewing gum contains xylitol and ice crytals giving you the same cool sensation as an ice cold drink. The dragee is in the shape of a cup... just as if you were taking a sip!
Choose from four fresh flavours: Peppermint, Spearmint, Sweetmint and Tropical.
Packaging
Keeping with  the theme of the product, the packaging is a unique cup-shaped bottle! The attractive graphic design draws reference from a refreshing granita drink.
Availability
Mentos Ice Cup is available in France, The Netherlands and Belgium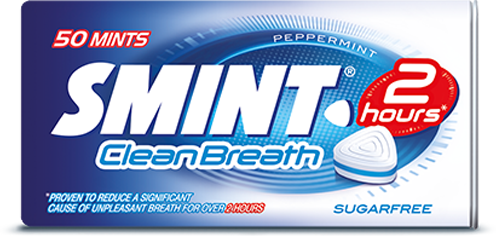 Smint 2h
Intense, sugarfree refreshing mints that give you 2 hours of clean breath!
Smint is known for its small triangular refreshing mints in handy on-the-go packages. The latest product innovation by Smint has 3 layers with 2 functional ingredients providing 2 hours of fresh breath. Smint 2h Clean Breath proves to significantly reduce unpleasant breath for over 2 hours.
Taste
Smint 2h Clean Breath is available in 2 refreshing flavours, Peppermint and Intense Mint giving you a fresh boost.
Packaging
The mints come in a convenient tin full of refreshing moments. Take your tin whereever you go and enjoy them at any moment of the day. Available in single and multipacks.